---
NEW:

2017 FPA Scholarship Awards Video
To view full-length video, CLICK HERE
To view trailer, scroll down this page …..
---
---
VERY SAD NEWS:
2013 FPA SCHOLARSHIP ALUMNA,
KIM WALL (1987-2017)
---

Welcome to the Foreign Press Association
Founded in 1918, the Foreign Press Association, ("FPA-USA"), is the pre-eminent non-governmental organization representing international journalists in the United States. With members from most regions around the world, FPA-USA offers orientation and networking opportunities; news making and educational events that bring members together with political, business, and other leaders; and a range of valuable member benefits and services
The FPA-USA partners with corporations, non-profits, media organizations, and communications companies on events that meet the needs of its members.
The FPA-USA's Foreign Press Awards, has also honored individuals from the arts, sciences, politics and other fields., honorees have included: Albert Einstein, Tennessee Williams, Elizabeth Taylor, David Lean, Mike Nichols, Henry Kissinger, and Walter Cronkite.
To Become a Member:
Please Visit Our
Membership Page
or Click on the JOIN button

To Renew Your Membership click on the RENEW button


Foreign Press Association Scholarship Fund
PLEASE NOTE: The FPA's Scholarship Fund has been re-branded. It will now be known as the "Foreign Press Foundation." The annual scholarships will still be known as the "FPA Scholarship Awards."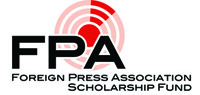 The FPA Scholarship Fund was founded by the Foreign Press Association on the 75th Anniversary of its formation to contribute to the development of the next generation of international reporters. Over the last 24 years, thanks to the generosity of members and supporting companies, the FPA Scholarship Fund has awarded 88 scholarships to international graduate journalism students studying in the United States through the Foreign Press Association Annual Scholarship Awards program.
2017 FPA Scholarship Awards: Video trailer

More information about the 2017 FPA Scholarship Application and Awards can be found here.
2017 Principal Sponsor:
Help Support the Future of Journalism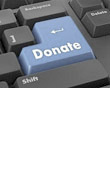 There are various ways to support the FPA Scholarship Fund and Annual Awards:
Amazon Smile When you shop @AmazonSmile, Amazon will make a donation to Foreign Press Assn Scholarship Fund.
To make a donation to the scholarship Fund, (a registered 501 (c)(3) not-for-profit corporation), please contact the FPA Scholarship Fund office, or click the "Donate" button to learn of ways to support.

For Additional Information please contact:
FPA@ForeignPressAssociation.org