Welcome to the Foreign Press Association
Founded in 1918, the FPA is the pre-eminent non-governmental organization representing international journalists in the U.S.  With members from more than 50 countries, the FPA offers orientation and networking opportunities; news making and educational events that bring members together with political, business, and other leaders; and a range of valuable member benefits and services.
The FPA partners with corporations, non-profits, media organizations, and communications companies on events that meet the needs of its members.
The FPA Scholarship Fund contributes to the development of the next generation of international reporters. Over the last 22 years, thanks to the generosity of members and supporting companies, the FPA has awarded 79 scholarships to international graduate journalism students at the FPA's Annual Scholarship Awards.
The Scholarship Fund has been supported by many major brands including Bayer Corporation, Bloomberg LP, Citi Group, UPS, Daimler, Proctor & Gamble, Prudential Financial, and Dow Jones.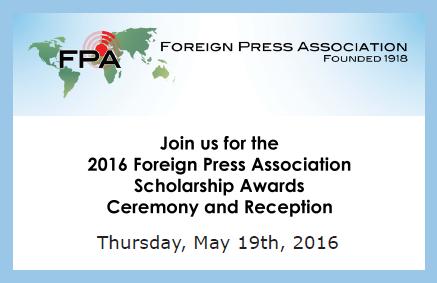 Information about the 2016 and previous year's FPA Scholarship Awards is available via the "Scholarship Fund" drop-down menu, above.
VIDEO: Foreign Press Association Scholarship Awards 2015
View Trailer:

There are various ways to support the FPA Scholarship Fund, through Patron support or Sponsorship of the Annual Awards. To make a donation to the scholarship Fund, (a registered 501 (c)(3) not-for-profit corporation), please contact the FPA Scholarship Fund office, or click the "Donate" button to learn of ways to support.
The FPA's Foreign Press Awards, has also honored individuals from the arts, sciences, politics and other fields., honorees have included: Albert Einstein, Tennessee Williams, Elizabeth Taylor, David Lean, Mike Nichols, Henry Kissinger, and Walter Cronkite.
MORE INFORMATION
1:   THE FOREIGN PRESS ASSOCIATION  
CONTACT:
Anthony Morenzi
Executive Director, FPA
eMail: ajmorenzi@foreignpressassociation.org
Tel: +1 646-320-3441
2:   THE FPA SCHOLARSHIP FUND,
CONTACT:
Camilla Hellman, MBE
Executive Director, FPA Scholarship Fund
eMail: cghellman@foreignpressassociation.org
Tel: +1 212-729-0127
or copy and paste the following link in your browser: