23rd Annual Foreign Press Association Scholarship Awards
The 2016 FPA Scholarship Awards were held on Thursday, May 19, 2016 at The University Club, New York City.
"2016 FPA Scholarship Awards" (Length: 53 minutes)
FPA 2016 Scholarship Application
This years scholarship applicants were asked to provide either a written OP-ED or a multimedia piece on the following subject:
"The 2016 Presidential election cycle has been largely defined by non-traditional candidates from outside the Washington mainstream. How important a role has the media played in the rise of these candidates in the U.S., and how much has the international coverage of these political figures shaped perceptions of the U.S. election process in your home country?"
The Awardees are young journalists who demonstrate through their work and accomplishments to date, the leading role that they will be playing in reporting the news of tomorrow.
FPA 2016 Scholarship Winners
Op Ed – Written Essay
Aleksandr Gorbachev
1st Place Award $10,000
Missouri School in Journalism
Fulbright Scholar

Aleksandr Gorbachev is a Russian journalist and Fulbright fellow at the Missouri School in Journalism, which he graduated from in 2016, after defending a thesis on business models of American digital longform publications. Read More . . .
Roberto Capocelli
2nd Place Award $5,000
CUNY Graduate School of Journalism
Fulbright Scholar

Roberto Capocelli is a journalist, master's candidate at CUNY Graduate School of Journalism in New York, and a Fulbright scholar. Read More . . .
Dien Nguyen An Luong
Joint 3rd Place Award $2,500
Columbia Graduate School of Journalism
Fulbright Scholar
Jennifer Ehidiamen
Joint 3rd Place Award $2,500
Columbia Graduate School of Journalism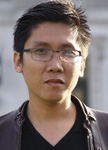 Dien Luong is an investigative journalist from Ho Chi Minh City, Vietnam, covering politics, inequality and globalization. He has just completed his Master of Science degree at Columbia Journalism School as a recipient of the Fulbright Scholarship.
Read More . . .
Jennifer Ehidiamen graduated with a degree in Mass Communication from the Nigerian Institute of Journalism (NIJ) in Lagos and is currently studying Business and Economics at Columbia University Graduate School of Journalism, New York. Read More . . .
Bayer Foreign Press Association OPED Scholarship in Visual Multi Media:
Op Ed – Multi Media

Shachar Peled
$10,000
Columbia Graduate Journalism School
Shachar Peled is a multimedia journalist from Israel, covering culture, technology and politics. She is a graduate of the Columbia University School of Journalism M.A. program for professional journalists. Her latest story focuses on the ways homeless Americans use technology and social media. Read/Watch More . . .
Principal Sponsors: